I know that we are now in November, but I prefer not to dwell on technicalities. As far as I'm concerned, it's Spooky Season until I finish my 31 Scares!
This week had a theme, and the theme was cannibalism. Even when human flesh was not consumed, there's been a lot of other creepy body stuff happening in the Scary Carie household lately, and I am HERE FOR IT.
Here's what I watched, how it scared, and how it performed on the gender front:
POSSUM (2018) dir. Matthew Holness
A dark tale of one puppet-obsessed man's (Sean Harris) blighted childhood and tortured adulthood, mainly told through creepy nursery rhymes and a dreadfully realistic giant spider puppet. This British indie is permeated by a steadily-growing miasma of dread that extends well past the big twist and the protagonist's unexpectedly optimistic final scene. The puppet thoroughly upset me, the what's-real-what's-psychosis storyline legitimately surprised me, and the constant dour staring into dreary fields was weirdly, British-ly charming. Highly recommend.
How Did It Score
Note: I'm removing the "Nightmare" category from this scoring chart in favor of the much more fun categories "Children," "Possession," and "Flesh Consumed." I will certainly keep you informed if a nightmare ever does happen to occur.
CHILD'S PLAY (1988) dir. Tom Holland
I had never seen this film before. The few clips I've seen have involved schlocky jokes and CGI, which never tickled me. Plus, I'm not one of those "dolls are creepy" people. So I was expecting this movie to be silly and un-scary. I was WRONG!
I mean, ok, it IS silly, but not in an annoying way. The acting is solid, and the silliness doesn't detract from genuine tension. A couple of things make this original installation to the giant franchise successful. Practical effects and clever camera angles mean we spend minimal time watching Chucky move around, which could be very un-scary if overdone. Director Holland leans on the threat of Chucky's relative invisibility, which is fairly unnerving. The other reason it works is Andy (Alex Vincent), a not-too-precocious six-year-old under constant threat because he follows the doll around to scary places, like condemned buildings. I was legitimately worried about him! But of course, Andy triumphs in the end, which is very satisfying. Go Andy!
How Did It Score
CELIA (1989) dir. Ann Turner
This one really surprised me! A charming idyllic horror that could easily pass as a family drama for the first hour or so, CELIA slowly and surely ramps up to a series of truly disturbing events perpetrated against and BY the sweet, lovable eponymous heroine (Rebecca Smart). Imaginative little Celia's brutal ideas are charming when they stay totally rooted in fantasy – the problem is, they don't. This film uses a few historical elements – a rabbit plague and the 1950s hysteria about communism – to create a deft metaphor about childhood, fantasy and blame, while also telling a legitimately troubling horror story. Highly recommend!
How Did It Score
MOTHER! (2017) dir. Darren Aronofsky
I was not expecting to be so moved and horrified by this film. Based on the ads I was sort of expecting…welll..hot JLaw being hot? Bad job with the posters, y'all!
MOTHER! broke my heart. It's the story of a woman (Jennifer Lawrence) in a relationship with a man (Javier Bardem) who is in a much more committed relationship to his writing. While she gives him every bit of love and creativity she has trying to restore his formerly burned-out house and hopefully have his babies, he just…looks for inspiration for his work. Everywhere. The man seems pathologically unable to not suck the marrow out of every life he touches in service of his writing and his fame. As a writer who is also a woman, it's hard to say which character I found more deeply unsettling. The tone starts sort of A DELICATE BALANCE (Albee, 1966) and then goes full WWII-meets-death-cult fever dream. I was disgusted, I was moved, I was DELIGHTED. Recommend!
How Did It Score
SINISTER (2012) dir. Scott Derrickson, THE TAKING OF DEBORAH LOGAN (2014) dir. Adam Robitel, and 0.0 MHZ (2019) dir. Sun-Dong Yoo
All three of these movies are about angry ghosts inhabiting someone's body and making them do nasty things! I enjoyed them all, but there is a clear hierarchy of least-to-most scary possession movie and that hierarchy is:
Not Scary: 0.0. MHZ
Occasionally scary but also a little goofy; way too much CGI; leans a little too hard on the pretty-petrified face of the lead actress (Jung Eun-Ji).
How Did It Score
Fairly Scary: SINISTER
Mysterious murder videos: very scary. The reveal of who is DOING the murders: also very scary! Ghostly children in shabby-chic crackle paint: LOL.
How Did It Score
Very Scary: THE TAKING OF DEBORAH LOGAN
Solid slow-burn found footage with some truly horrific flailing, wailing, and skin-peeling, and a pervasive sense of lost control. I'm not especially scared of snakes but they were used QUITE effectively. Also, Jill Larson (Deborah) is a marvelous actress!
How Did It Score
BLOOD QUANTUM (2019) dir. Jeff Barnaby
This was a super fun take on a classic zombie flick, with the twist that First Nations people are immune to zombie-ism. The story takes place on Red Crow Reservation and centers a teen boy, Joseph (Forrest Goodluck), his Sherriff dad (Michael Greyeyes), and Joseph's pregnant white girlfriend, Charlie (Olivia Scriven). It's basically a classic Fight-Zombies-or-Die plot structure, but the twist means that the protagonists are not necessarily worried about a single bite – they're worried about being eaten alive by hungry hordes of white people. Which is 1) an apt metaphor, and 2) actually way more terrifying! I found this movie legit scary in a zombie way, while also having compelling characters, and some intriguing artistic animated sequences that helped establish themes around motherhood and connection to the land. It's free on Shudder – check it out!
How Did It Score
RAW (2016) dir. Julia Ducournau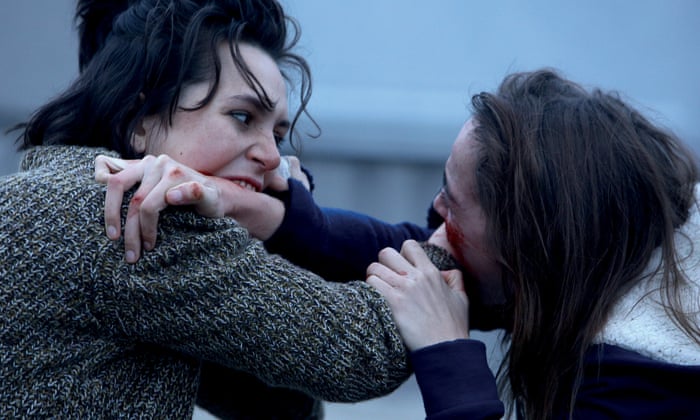 RAW is the story of a vegetarian who consumes raw animal flesh for the first time, and it sparks a previously-unknown voracious desire to eat raw meat. Human apparently preferred. This is not a comedy.
There is a post forthcoming in which I will gush at length about RAW and the 2021 follow-up TITANE, and Julia Ducournau in general. Suffice to say for now that RAW was wonderful, and set a new standard for me in terms of what I want from gender and body horror in films. It's unnerving, it's human, it's disgusting, it's FANTASTIC. Go watch it immediately.
How Did It Score