I'm so ready for fall. Since September 1 I've been baking pumpkin-spiced things and wearing cozy socks around my house as though it's not literally 100 degrees outside here in Los Angeles.
I honestly think I might've summoned the 70-something degree weather we had as a September blip through sheer force of will…or maybe it was smoke from the nearby wildfires blocking out the sun.
I'm gonna go with the summoning thing.
Now that we are, TODAY, entering the spookiest month, I feel like all my preparation was justified! I had enough time to actually plan a horror movie marathon.
This October I'll be watching 31 horror films.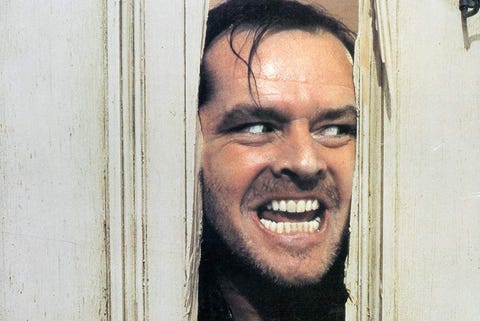 When I set out to create the perfect list of Spooktober scares, I was particularly interested in being truly terrified. Lately I've been in the mood for terror, and I've been disappointed by a couple movies that I really hoped would scare the crap out of me, and did not. So, as any reasonable person would, I turned to the internet and begged for recommendations from my friends, which they generously gave! (Hi, friends! Thanks friends!)
When coming up with a list of 31 films, I wanted to make sure I included a little bit of everything I like: a good balance of classic and newer scares, a chance to rewatch a few old faves, a solid handful of movies that are supposed to be all-time scary, and plenty of witches.
As a special addition to my usual Carie-Burns Test rating system, I'm also going to implement a rating system in which I let you know:
Did it give me nightmares?
I'm going to watch in roughly this order, and report back regularly with reviews and observations about this epic scare round up. As usual I'll also document in in my instagram stories.
31 Brutal 'N Scary Films for October
AUDITION (1999) dir. Takashi Miike
HEREDITARY (2018) dir. Ari Aster*++
MIDSOMMAR (2019) dir. Ari Aster*++
MALIGNANT (2021) dir. James Wan
INVASION OF THE BODY SNATCHERS (1956) dir. Don Siegel
ROSEMARY'S BABY (1968) dir. Roman Polanski
THE WOLF HOUSE (2018) dir. Joaquin Cociña, Cristóbal León
POSSUM (2018) dir. Matthew Holness
CHILD'S PLAY (1988) dir. Tom Holland++
CELIA (1989) dir. Ann Turner++
MOTHER! (2017) dir. Darren Aronofsky
SINISTER (2012) dir. Scott Derrickson
0.0 MHZ (2019) dir. Sun-Dong Yoo
RAW (2016) Julia Ducournau
TITANE (2021) dir. Julia DucournauMT
KINGDOM OF THE SPIDERS (1977) dir. John "Bud" Cardos
BLOOD QUANTUM (2019) dir. Jeff Barnaby
THE TAKING OF DEBORAH LOGAN (2014) dir. Adam Robitel
FEAR STREET PART ONE: 1994 (2021) dir. Leigh Janiak+++
FEAR STREET PART TWO: 1978 (2021) dir. Leigh Janiak+++
FEAR STREET PART THREE: 1666 (2021) dir. Leigh Janiak+++

As the first of FIVE movies on this list about witches, FEAR STREET PART THREE is also going to kick off Witch Week! Stay tuned for a deep dive on Which Witch Wins the Week (and my Heart).

THE WITCH WHO CAME FROM THE SEA (1976) dir. Matt Cimber
CARRIE (2013) dir. Kimberly Peirce
SUSPIRIA (2018) dir. Luca Guadagnino++
THE LOVE WITCH (2016) dir. Anna Biller++
THE HAUNTING (1963) dir. Robert Wise
HENRY: PORTRAIT OF A SERIAL KILLER (1986) dir. John McNaughton
REVENGE (2017) dir. Coralie Fargeat
GET OUT (2017) dir. Jordan Peele*
KILL LIST (2011) dir. Ben Wheatley
LAMB (2021) dir. Valdimar JóhannssonMT
* indicates a rewatch
MTindicates movies I'm going to watch in a Real Movie Theatre
++indicates a double- or triple-feature with the films directly before or after
Have you seen some of these flicks? Any faves? Any duds? Let me know what to include in my NEXT 31 scares…and which of these movies I should be dreading.